In early summer 2010 Simpson Group received an intensive Christmas brief from Maxxium UK. Maxxium, as part of The Edrington Group and Beam Global family, has the number one whisky portfolio in the UK and also an impressive range of the world's leading spirits brands, including:
The Famous Grouse ('Scotland's Favourite whisky'), The Black Grouse, Courvoisier VS, Courvoisier VSOP, After Shock, Sourz, The Macallan, Laphroaig and Highland Park
to name just a few.
The Challenge
Our brief was to create a range of cost effective pre-filled Pallet Display Units which would house 9 of Maxxium's best selling brands. The PDUs were to be sited in Makro and would allow Maxxium to have off-shelf visibility in the Cash and Carry market during the key Christmas period. The stockholding requirements for each PDU were very varied yet precise (from 48 to 168 bottles); however Simpson Group had to ensure that all the PDUs would have a similar footprint, to enable four to be transported on the larger 1000 x 1200 pallets.
The Solution
After extensive sizing and transit testing, Simpson Group's 3d CAD designers created the simplest but most robust design possible which would allow the PDUs to be assembled, merchandised and transported with ease. A combination of stacker and shelved units were designed which gave the option of either single brand PDUs or a multibrand unit, such as the Mixed Malt PDU (for The Macallan, Highland Park & Laphroaig). Simpson Group was also commissioned with creating the artwork design for these display units. The focus for the creative element was to be a simple emphasis on the individual brands. The bottles were 'heroed', sympathetic background colours were used to highlight the products and maintain the integrity of the brand, while complementing the marketing message.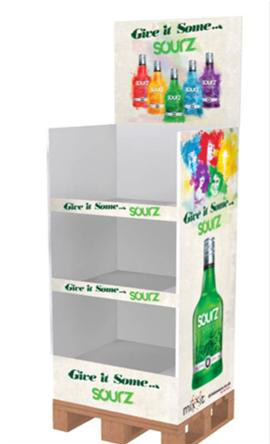 Working in close partnership with Maxxium on all aspects of this project accelerated both the creative and production workflow. Under some extremely tight deadlines towards the end of the project, Simpson Group produced the 8 styles of PDUs in less than two weeks. We opted for digitally printing the PDUs on our new HP 7500 which gave the Pallet Units an exquisite print quality and provided a high gloss effect without the need for a varnish, saving us valuable time and money.
The Result
399 units were delivered in October 2010 to Maxxium's co-packers for assembly, merchandising and onward shipment. Simpson Group was delighted to be a part of this important POP project for Maxxium during the key 2010 Christmas period.