Traditionally the Black Friday sales usually marks the first day of the year that retailers apparently move from being in the red to being in the black! The madness of a 24-hour flash sale caused footfall on the British high-street to increase by over 10% in 2014 and with sales anticipated to exceed £4 billion this year, retailers are becoming even more competitive.
Black Friday sales are kicking off the holiday season this year on the 23rd of November, with some retailers already beginning to offer discounted products to get ahead of the competition. This season is crucial for the economy as reports suggest that around 30 percent of annual retail sales occur between Black Friday and Christmas. For some retailers such as jewellers it is almost 40!
With Black Friday sales comes the pressure of providing easy grab items to maximise on sales and get as many customers through the door as possible. Using effective merchandising and point of sale displays, you're more likely to engage with your customers and the passing trade. Tap into impulse purchasers, after all – Black Friday creates a panic and rush amongst customers, often consumers take to social media platforms such as Twitter and Instagram to show their purchases and express their excitement for finding bargains. This is where engaging Black Friday marketing strategies comes into play, through using point of sale displays and attractive window displays your store will stand out from the crowd and entice people to come in. This will increase the likelihood of exceeding your Black Friday Sales targets.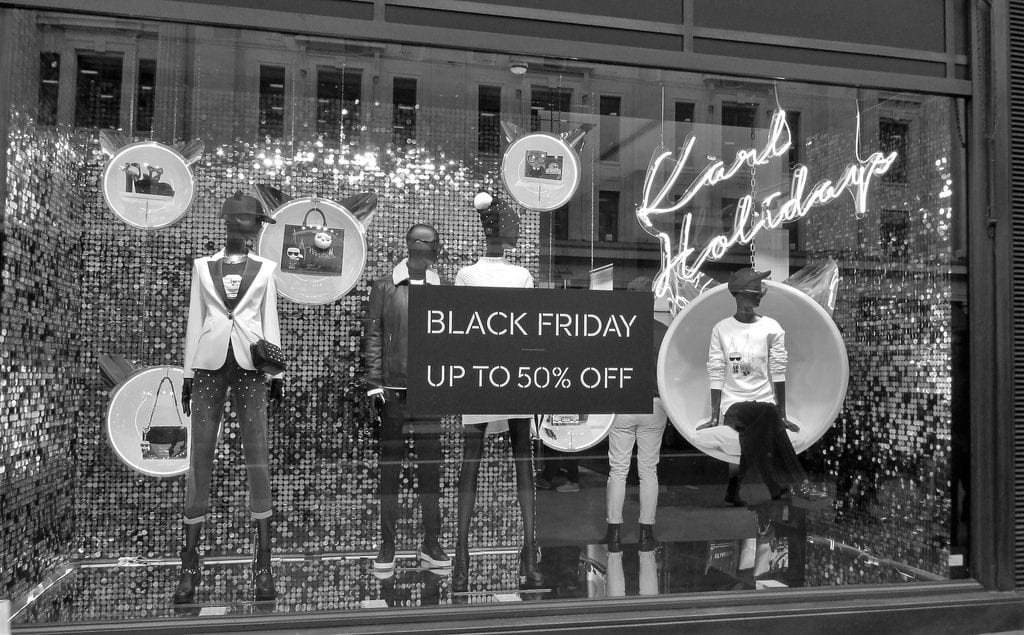 Create a campaign that is part of the bigger picture
Are you asking yourself "how do I increase my black Friday sales"? This year consumers are expected to drive sales online and in-store, there have been a number of retailers this year who have started their Black Friday sales before the main event. To make sure that you have everything in hand keep your online promotions in-line with your in-store ones. Using a tactic of recognition will bode well when your customers are passing your store. Often black Friday retailers will show an advertisement online, on TV, in Printed marketing materials and in-store. Getting the message of value rather than being cheap is important when conveying your marketing messages to your consumers.
With your in-store marketing, start by thinking of how you're going to increase footfall and build momentum leading up to the event. Using social media to advertise your flash sale including a countdown to when customers can expect to see your store participate in the sale will drum up excitement.
Use email marketing to distribute in-store only discounts that customers can use to get in-store incentives. Incentives are a great way to create a great brand experience, rather than just a shopping time. You want to increase shoppers' dwell times in-store and keep them in as long as possible, allowing them to explore all aspects of your store. Think about creating a layer of services, as discussed in our article about providing a human to human experience rather than just a shopping experience, consumers prefer to feel like they are receiving something beneficial. This can be a simple complimentary drink or bite to eat or go the full mile and create an experiential shopping experience by providing a service such as a bag repair or a repurpose your product service. By providing n experience that is out of the ordinary will create a need for your Black Friday customers to return after the sales have ended.
Creating campaigns that last
We have clients that have re-used their seasonal point of sale marketing campaigns time and time again. Create an in-store display that you can use for the week before Christmas and through out the end of season sales.
The auditing company PwC expects promotional activity in the seven days before Christmas to outweigh that of Black Friday, with retailers opting to run in-store sales events in an effort to reduce festive stock in a lead up to the end of season sales.
In a survey conducted by PwC, they found that 84% of online retailers and 75% of High street stores in the UK offered some kind of promotional benefit over last year's Black Friday weekend. Whilst more than a third of participating retailers returned to full price the following week, with 10% of those surveyed promptly relaunching in-store point of sale promotions.
Approach the black Friday sales in two ways, are you likely to re-use the black Friday point of sale for another promotion? If so then use generic sale marketing messages that would entice your consumers all year round into your store.
Are you wanting a more targeted approach by marketing a sale on a specific item or product? If so then use targeted messaging, the glory of using our temporary point of sale is that you don't have the commitment you do when using permanent point of sale in-your store. Our FSDU units and in-store marketing campaigns can be time sensitive and once they have been used for black Friday, they can be recycled, and you can install a new set of point of sale marketing items in your store with a new marketing message that offers your customers a new offer or service.
The impact on Christmas Shopping
Black Friday is an increasingly important event in the calendar for retail sales in the final quarter. There are a few retailers who don't take part in the sale notably M&S and ASDA. Black Friday 2017 saw a surge in fashion sales, where 2018 is expected to see a growth in electrical goods sales.
The chart below shows the volume of retail sales in both November and December 2017, initially it looks clear that November gained at the expense of December, with December climbing slowly compared to November's rapid growth in sales year-on-year.
Mintel's own consumer research showed that almost two thirds of Black Friday shoppers in 2017 said they waited for promotions to make a purchase. 51% of those who bought something on Black Friday aid the majority of their purchases were Christmas Gifts, whereas 74% of shoppers on Black Friday said that only some were Christmas Gifts.
There's no concrete evidence that Black Friday sales creates a decrease in spend in December on Christmas gifts, however there's strong evidence that has suggested in the past year has seen a rise in wealth, with people being able to spend more over the rest of the year. Research by Mintel has shown that those with higher household incomes are more likely to shop for Christmas earlier in the year, compared to those whose finances are not as strong – who choose to shop at the back end of the year.
Running effective store promotions using POS
Within your store, ensure all discounts are highlighted clearly. If you're running different promotions and discounts across the store, ensure relevant price breaks are grouped together and support by the relevant point of sale units and displays. Keep your heavily discounted items in the most prominent positions with the highest flow of traffic.
Finding a happy medium with store stock is key when pushing products to your customers, try and get as much stock out on the shop floor as possible to reduce the risk of a sell through, whilst still making sure that your shelves and displays don't look too full which can look unappealing to customers.
If space is an issue on your shelves, dump bins can help avoid looking over crowded. Fill them with smaller products like accessories, socks or cosmetics. Research by POPAI suggested they're also an effective method of increasing basket value due to maintaining a high level of customer engagement. They help create an impression that these products are more important than others on the shelves and consequently help shift volumes of higher levels of stock. Another option you may want to consider for larger products is an FSDU (Free standing display unit). These can give the same benefits as the dump bins.
Most notable of all, ensure you're still delivering the best customer service possible despite the busy rush. You'll need to bear in mind things you perhaps wouldn't on a typical day. For example, do you have barriers to manage crowds in order to create a queue system for those entering the store and those at the till point, it's also worth thinking about ensuring extra staff are on the shop floor and perhaps extra security.
Have you thought about how you can create a sales uplift like other retailers during the Black Friday sales? Speak to a member of our experienced client services team who can advise you on the best type of in-store marketing POS (point of sale) that will benefit your store, creating an uplift in both footfall and sales. Each member of our client services team is equipped with the knowledge to recommend and execute point of sale marketing campaigns that suits every budget.