Before online shopping took off, I'm sure many of us nostalgically remember flicking through catalogues as children, circling all the things we wanted Santa to deliver. Well, the void has been filled! Amazon.com has mailed out its first printed toy catalogue ahead of the US 2018 festive season, revamping yet another traditional retail strategy. Although the catalogue doesn't seem to be making an appearance in the UK yet, this can only be a sign of what's to come from the e-commerce giant.
Amazon.com have recognised multiple opportunities here:
The demise of Toys R Us has left a blatant gap in the market.
Emotion and storytelling are better served using a physical touch-point.
The omni-channel shopping experience becomes even more important during the Christmas period, multiple family members are often involved in the path to purchase, from the children themselves to parents and grandparents.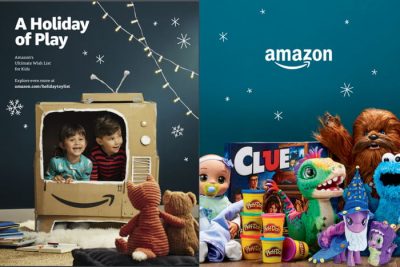 Does history always repeat itself?
Despite living in an increasingly digital age in which the media claims "the high-street is dead", it's interesting how often history actually repeats itself. Just as we begin to doubt a specific marketing strategy or sales channel, it often comes back into fashion. Perhaps, on the other hand, such strategies never really die, they simply sit in the marketer's toolkit until the right opportunities arise. Christmas is an emotional time of year and if there's ever a time to give a nod to the past and remind people of simpler times - it's now.
Of course, although Amazon have returned to their roots with their catalogue, they've done so with a twist (would you expect anything else?!). For one, it doesn't feature any prices and descriptions of products are limited to non-existent. You'll need to head over to the website to find out more or simply scan product images with the Amazon App to get more details or add the items to your shopping cart.
Filling the Gap
Although nothing will beat the experience of a traditional toy store which combines both retail and entertainment, the catalogue serves as the mid-way point between the online and physical world. For online-only brands, direct mail is one of the only physical touch-points other than pop-up stores. Take Wayfair for example, they've been an online-only brand since they were established 13 years ago. They've recently decided to invest in a printed catalogue to further enrich the customer shopping experience through story-telling.  And, it's not simply a mass mailout, Wayfair have used data to target their most active customers.
With their further expansion into bricks and mortar through Amazon 4 Star and the introduction of their first printed catalogue, Amazon are demonstrating that the appeal for items you can touch is still very strong, especially when part of a multi-channel marketing and sales approach. Furthermore, marketing strategies and sales channels never really become fully extinct, a strategy may sit quietly in the background for a while before it reappears in the right place, at the right time.