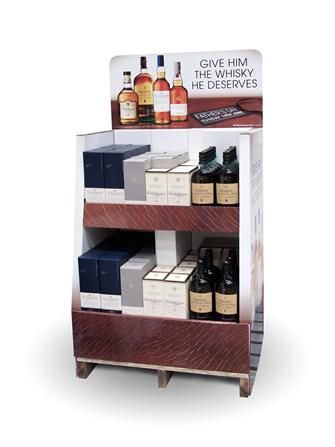 In April 2011 Williams Lea, Diageo's business process outsourcing partner, handed Simpson Group an intriguing challenge: 'Create a unique pallet display unit which would complement the promotion of four of Diageo's premium single malt whisky brands during the Father's Day 2011 trading period'.
The Challenge
Williams Lea's brief required Simpson Group to create a cost effective pre-filled Pallet Display Unit for the Cash and Carry market. The pallet unit should house 18 cartons of Talisker, 24 cartons of The Singleton of Glendullan, 12 cartons of Dalwhinnie and 12 cartons of Glenkinchie. It was also required that the display unit fit onto a 800 x 600mm wooden pallet, allowing Diageo to have off-shelf visibility in the Cash and Carry market during the Father's Day 2011 trading period.
The Solution
After extensive sizing and transit testing, Simpson Group's 3d CAD designers in collaboration with Williams Lea created the simplest but most robust design possible which would allow the PDUs to be assembled, merchandised and transported with ease. Working in close partnership with Williams Lea and Diageo on all aspects of this project accelerated both the creative and production workflow. Under some extremely tight deadlines towards the end of the project, Simpson Group produced a two shelved pallet unit with intricate shelf fillers to ensure stability and house the products securely whilst in transit. We opted for digitally printing the PDUs on our flatbed HP 7500 which gave the Pallet Units an exquisite print quality and provided a high gloss effect without the need for a varnish, saving the client valuable time and money. The shelving areas were printed with a rich 'wood effect' which reflected the smooth, smoky flavours of the products themselves. Seductive product shots featured on the header and sides of the PDU 'heroed' the four malts, with the simple message 'Give him the whisky he deserves' to complete the picture.
The Result
Individually collated with assembly instructions and packed into labelled outer cartons, the PDUs were delivered to the co-packers in early May 2011. Assembled, packed and despatched for onward shipment for the infamous 'voyage of discovery', the exclusive Diageo malt collection is on display in key Cash and Carry stores for Father's Day 2011. Simpson Group was delighted to be a part of this important POP project for Williams Lea and Diageo and we would like to raise a glass to all Dads.