In February 2012 Simpson Group received another challenging request from our valued client AG Barr, regarding the promotion of Irn Bru, 'Scotland's favourite drink'. AG Barr required a multi-purpose pallet display which would be used to merchandise a row of standard 1000 x 1200mm pallets in key cash and carry outlets in Scotland.
The Challenge
Our challenge was to create a display that would be as 'phenomenal' as the Irn Bru brand itself. As AG Barr promote through their unique marketing (both above and below the line), Irn Bru isn't just a drink it's a way of life. Our brief for the generic Irn Bru 2012 campaign was to create 'dramatic' POS for the mass merchandising of the 2ltr bottles and multipacks of 330ml cans. The client also required us to design a 'curved' 3D display which would emulate the curve of the IrnBru bottles. Innovation and a stunning visual impact were the prerequisites as the new POS would coincide with the launch of Irn Bru's new TV campaign—'IRN-BRU GETS YOU THROUGH'.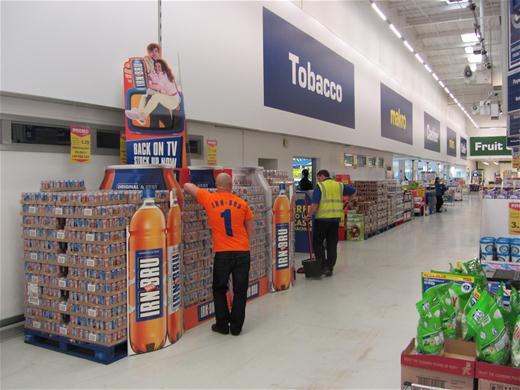 The Solution
Whilst advising the client of cost effective design and production methods Simpson Group's CAD team designed the pallet displays to allow for the simplest assembly which would be compliant with in-store requirements. Samples were then tested on site in a Glasgow cash and carry stores. On final approval, production began on curved 2 bottle side panels (800mm w x 1600mm) and supporting struts, with a 300mm high footer and a rear 1850mm x 1200mm Irn Bru 330ml 'giant can' back panel. Printed double-sided to promote both the original Irn Bru and Sugar Free Irn Bru products, the giant cans have varied clip attachments to allow them to be affixed to either the rear of the pallet shrouds or used as dividers between rows of pallet displays. Overhead connecting headers (250 x 1000mm) were also designed and produced to be used to adjoin the 'giant cans'. Constructed in both EB Flute corrugate and 2000um display board the gigantic Irn Bru pallet campaign and its immense proportions were digitally printed, collated and packed in sets with assembly instructions to ensure simple assembly in store. Traditional character standees were also produced to complete the marketing message and tie in the TV advert scenario.
The Result
Delivered in March 2012, our curved twin bottle displays 'dress' the end pallets, while the pallet skirts complete the framework and the giant cans with overhead connectors are clear signage for product identification and location. Sales have soared and the stock is replenished daily as 'Irn Bru gets you through'.
"They look AMAZING!!!!!!!!! And very impactful. So happy!"

Sharon Clare, InStore Visibility Team, A G Barr