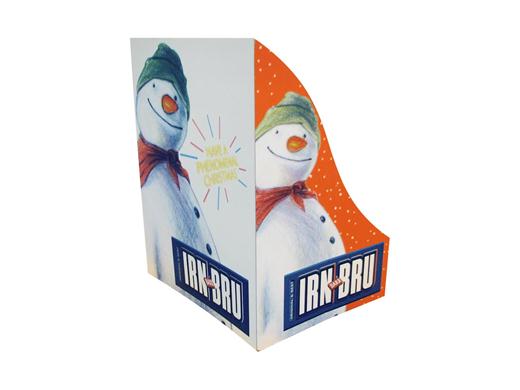 You know it's Christmas when Raymond Brigg's iconic Snowman pops up on our TV screens, but better still A. G. Barr's parody is also 'walking through the air' in their seasonal Irn Bru commercial ….but this whimsical snowman has a rather cheeky side as he longs for a can of the soft drink. For those who are not familiar with The IRN BRU Snowman commercial, it begins with a young boy decorating a snowman in his garden. As the boy takes a swig from his can of IRN BRU the snowman turns around, grabs his hand and leaps into the air. Together they fly over Scotland, looking at the Falkirk Wheel, the Forth Bridge, Glasgow's Buchanan St, the Princes St Gardens Ice Rink, the Loch Ness monster, a red deer, the Glenfinnan viaduct, Eilean Donan Castle, and Glasgow's Royal Concert Hall. When the boy refuses to share his IRN BRU with the snowman he's dropped off in George Square in Glasgow. The snowman flies off drinking the IRN BRU, discarding his carrot nose. In the final shot George Square is lit up with the tagline, "Have a Phenomenal Christmas".
AG Barr launched their first Christmas-focused television campaign for their signature soft drink, IRN BRU, in 2006. Since then, this 60 second animation, "Phenomenal Christmas', has continued to play around with Raymond Brigg's original story of "The Snowman" and become a family favourite and now, something of a tradition. For the 2011 Christmas holiday season, Simpson Group's team has assisted A G Barr to create some show stopping in-store POS which would be suitable for all retail channels and which complements their 'phenomenal' marketing campaign. To accurately portray this symbol of Christmas and enhance the colourful Irn Bru products a variety of display materials are required which will merchandise the multipacks of 330ml cans, 500ml and 2L PET bottles.
At Simpson Group we recognise the importance of understanding our client's business in order to offer them the right solution for their needs. We help you to: • Define the campaign objectives • Offer quality yet cost-effective production • Bring the campaign to life • Execute the best route to market solutions To achieve cost savings for the Irn Bru Christmas 2011 campaign, Simpson Group planned up the production of pallet wraps, shrouds, dumpbins, hanging boards and the infamous snowman standees to allow for the use of common materials. A mix of litho, screen and digital resources was used, again to plan for the most efficient method of print production. Simpson Group has assisted A G Barr to cover all angles with their in-store marketing. Where floor space is limited, we explore the limitless possibilities of in-store signage to differentiate products and to achieve brand influence. This led to the hanging board snowman 'walking through the air'.
The popular hexagonal dumpbin with its small footprint is perfect for the convenience market and single serve ambient products. Small and compact, this unit is perfect for placing in high footfall areas to help increase impulse purchases on the 500ml Irn Bru bottles. Suitable for a wide range of retail environments, from supermarkets to cash and carry, pallet wraps/skirts and shrouds displays 'dress' the standard pallets to make them stand out from the crowd and provide product differentiation on the multipacks.
Visually striking, standees can be die cut as required to provide ample space for product/brand communication. Unique and bespoke the standees create a theatrical impact in-store as the snowman entices the consumer, brings a smile to their face and directs them towards the merchandise. This year Simpson Group and A G Barr also worked together to develop a new POP display which has evolved into large format pallet standees. This innovative concept is designed to be displayed on either end of a line-up of pallet displays. These eye catching displays work as 'bookends' on either end of the pallets to both 'frame' and house the products. Making a dramatic statement these standees showcase the merchandise while providing a cutting edge solution for a common retail dilemma, i.e. how to make mass merchandising (rows of pallets) appear attractive whilst maintaining brand integrity and relaying company message.
Produced and delivered by Simpson Group in October, the Irn Bru range of POS materials are now on display in leading retailers and cash 'n' carry outlets across the country. Simpson Group has been honoured to partner A G Barr throughout 2011 with their ground-breaking in-store marketing campaigns. Season's greetings to you all! Let's celebrate with a can of Irn Bru ……
We're walking in the air I'm sipping on an IRN-BRU My chilly snowman mate said that he would like some too I tell him, get your own He looks like he is going to cry I tell him once again that the IRN-BRU is mine Now I'm falling through the air I wonder where I'm going to land He nicked my IRN-BRU and let go of my hand!