According to Global Data Retail, the UK's discount retail market is set to see a 36.1% increase by 2022.
With more consumers heading to discount supermarkets like Aldi and Lidl being attracted by the chain's strategy of conveying a message of being better value, rather than being cut price. This attracts consumers who want to save money on their weekly shop, but don't want to come over as being frugal in their spending. Where in reality with the economic climate, being frugal is possibly a wise choice when picking up the same groceries for half the price as leading supermarket chains. Lidl and Aldi have created a culture of bargain buys and seeing what you can purchase at a fraction of the price in their famous middle aisles, which are decked out in point of sale marketing material such as hanging signs, dump bins and vinyl floor graphics.
Discount chains like Aldi and Lidl, were created to target those with lower incomes, however a survey conducted against 2,000 respondents showed that 77% of households earning an income of £50,000 or more have used these stores, compared to 73% of households with incomes less than £15,000.
Often customers prefer an honest retailer, with discount supermarkets and pound stores offering products for a fraction of the price, why pay more? Lidl and Aldi often shy away from pushing out mainstream brands and offer a like for like product, made and produced by the stores themselves. This means that they are able to offer a better price to the customer, compared to some of the more expensive brands which would take a chunk of the profits and would ultimately cost the consumer more.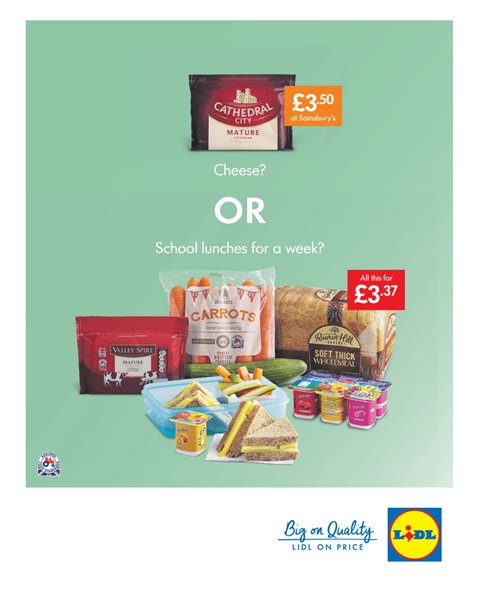 A survey conducted by shopper centric saw four in five online grocery purchasing journeys completed in-store. This is most likely to experience the product before purchasing or comparing online. With tactility and seeing the products in person being the most popular reason why customers visit the stores, the same survey saw 36% of respondents stating that they had visited one of the leading supermarkets like ASDA, Sainsbury's and Tesco's, where 21% shopped at discounters – 3% more than online shopping. This data shows that consumers are still preferring to shop offline for their groceries and at the same time the discounted supermarkets are becoming even popular with the general public.
Why do consumers choose online? 70% of surveyed consumers associate online grocery shopping with control spending, 60% associated it with avoiding temptation and a mammoth 80% use online grocery shopping for the convenience of not having to carry shopping around. But what are consumers saying about the reasons that keep them coming back into store? Is it the personalised service and the ability to see newer products? Human interaction and on hand customer service is something that isn't met the same way as it is in-store when comparing to online.
How can in-store supermarket retailers' market to consumers? Using point of sale marketing material such as an FSDU or an in-store window campaign will allow your store to stand out in busy environments and increase footfall into your stores through clearly outlined promotions, offers and new products. As discovered, consumers prefer to experience the product in a supermarket before they start purchasing it online. This is the perfect opportunity to team the product up with a supermarket FSDU to showcase your products in their best light. Use lighting and signage to direct your customers to your offers and wow them with in-store innovations and show them a customer experience they will never forget.
Discount retailers can also utilise point of sale marketing campaigns in their stores. As space in discount supermarkets often comes at a premium where aisles are preferred to be dominated by store products and shelving, use product dump bins at the end of the aisles to catch customer's attention and tap into their impulsiveness of purchasing on the spot. Using signage and posters can be used to highlight offers and used to compare items with leading supermarket retailers. This will give consumers the information they are looking for without having to search aimlessly on their phones, ultimately creating an inconvenience for them and taking the ease out of shopping in-store.
With the opening of Tesco's discount store, Jacks targeting the same type of consumer as Lidl and Aldi – will more leading supermarket chains make the same move in opening up discount supermarkets?