The Entertainer
Christmas Window Display 2014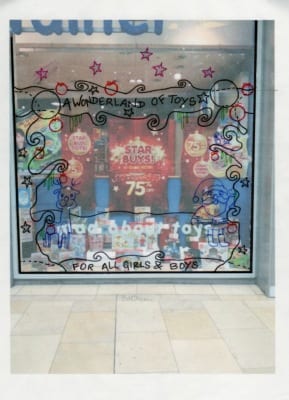 Summary
The Challenge 
To provide a 2014 Christmas window display to turn heads during the most competitive period of the year
The Solution 
Winter Wonderland Theme, consisting of 2 metre high tree to match art from the Christmas Catalogue
Results 
Distinct sales uplift
Increased footfall
The UK's largest toy retailer – The Entertainer requested Simpson Group produce a window display for their 2014 Christmas sales campaign. The Entertainer wanted the window display to have three key attributes; it had to be fun, eye-catching and be able to display real toys. It had to be strong enough to stand in the window for 4/5 weeks over the busiest and most competitive period of the year and tie in with their Christmas catalogue and overall in-store Christmas Marketing Campaign.
Following some research, drawings and brainstorming with The Entertainer team, we came up with the 'Winter Wonderland' theme, which consisted of a full size 2 metre high tree to match the artwork from the Christmas Catalogue. The tree included shelves so real product could be displayed and store characters were positioned around the toys in the window. A woodland window surround was also designed alongside hanging baubles and icicles to create a magical 3D effect.
As well as designing the window display, our design team assisted The Entertainer in the setup of some of these windows to advise where necessary. Other stores were provided with a full set of assembly instructions to make it as easy as possible for the VM team.
The display created quite a stir amongst the passing trade especially children with many wanting photos beside the window. Footfall increased across all stores which consequently lead to an increase in sales.
Max. Total Business Uplift 76%
Max. Bullring Uplift 84%
Max. White City Uplift 166%
Simpson Group were completely instrumental in the successful design and execution of The Entertainer's 2014 Christmas Windows. The design team came on board from the very beginning, taking away our lead creative and coming up with a complete design for the main stores as well as rolling it out across our additional 93 stores.
They worked very closely throughout the development stages with both the team at The Entertainer and our creative agency Roundpeg to offer expert practical advice and ensure we achieved the desired results.
The Simpson Group also worked with us to make sure the project came in on budget and was as environmentally conscious as possible helping to select materials and packaging options that were suitable and robust but wherever possible, fully recyclable.
Sam Kirwan