In such a digitally driven culture, for a physical retail store, the competition can be rife against online competitors and the pro's that the internet can bring to the retail industry. 
But for physical store owners, your opportunity for making the right impression often starts at the storefront. Whether it be your window display, your store entrance or having a member of staff greeting your customers as they enter. There are multiple different ways that you can give your storefront a whole new vibe for 2020 and generate customer footfall. 
The two most popular ways that you can stand out from the crowd is by utilising innovative Point of Sale print products and placing a heavy focus on the value of traditional face to face customer service. Let's take a look at how Simpson Group can work with you to produce intriguing and innovative Point of Sale products to help your retail store in 2020…
Storefront Display Solutions 
Retail Window Display - 
Your window display is your store's opportunity to make a great first impression and really engage your customer to walk into your store. 
A retail window display is one of the best places for you to display new products and items that you are stocking, in order to entice customers into your store. You will find that most store-fronts use time sensitive themes for their window displays in order to keep it fresh, on trend and relative. Teamed with a Point of Sale campaign, your marketing has the ability to create an uplift in sales and increase footfall into your store.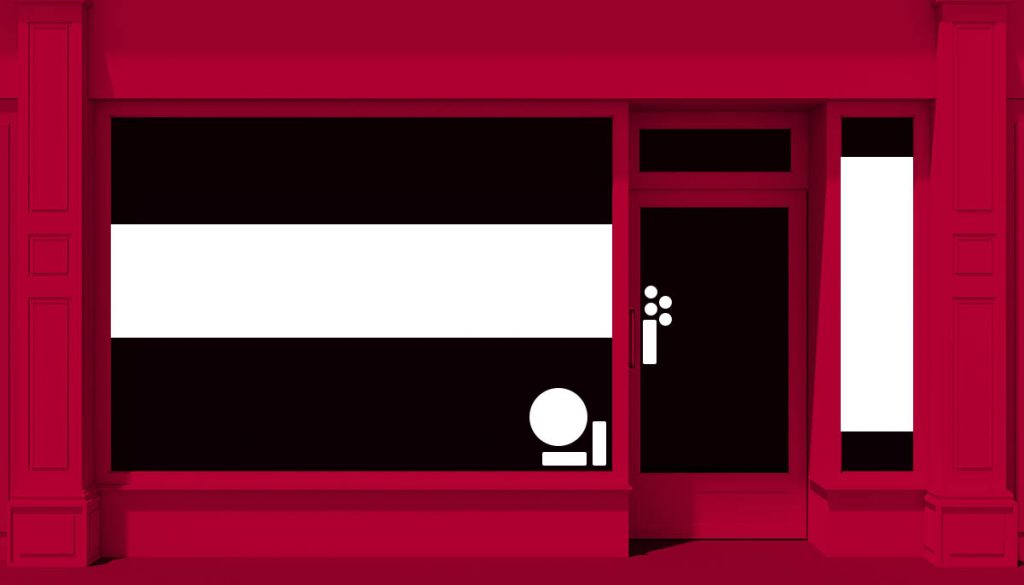 So what are the benefits of a retail window display POS?
Create brand awareness

Improve the aesthetic appearance of your store

Versatile

Entice customers in

Unique to your brand
If you have something in mind that doesn't fit our normal window display solutions then we have a team of experienced
CAD designers
who can walk through the process of creating a bespoke display for your brand. The benefits of having a bespoke display is that it is solely unique to your brand, and won't be seen anywhere else. You also have full control of the finished look and feel of the window display – this gives you the opportunity to tweak any detail you see fit. Other than working with a team of CAD designers, you will have a member of our client services team guide you through the whole process, from initial idea to the finished product. At
Simpson Group
we are here with you every step of the way.
Vinyl Floor Stickers -
Vinyl floor stickers are great for creating a customer journey throughout your store. You can begin the journey at the door, ensuring that the trail hits every area where there is a particular product on sale that you are aiming to promote that week/month, making sure that your customer notices it. 
So what are the benefits of vinyl floor stickers?
Affordable POS 

Durable

Utilising shop-floor space

Creates a customer journey
Hanging Signs -
Hanging signs are typically used to draw your customers attention to a particular sale or special offer in place in your store. They have the power to highly influence a customers shopping journey throughout your store and direct them to a particular promotion. If you are looking to drive last minute sales, then hanging signs are definitely one of the best ways you can do this. 
With consistent branding and artwork throughout your store, you are able to present eye-catching POS displays, however when it comes to your hanging signs, there are a few things that we would advise that you keep in mind:
Choose your artwork carefully - hanging signs are able to be used for long term promotional use, and all of our hanging signs are printed on high-quality materials designed to run their course for as long as you need them,

We understand that your hanging signs will most likely be placed under hot store lights, which is why we always ensure that our signs will keep their quality and shape!

You have the option of having your artwork printed on both sides, and different artwork on each side to promote different aspects of your store. 

We can accommodate to themed retail displays, so whether you are looking to promote upcoming Valentines offers, or Easter products - we can help!
Product Dump Bins -
A dump bin is a free-standing container that's used to hold and display products. Generally made from cardboard, a dump bin is a lightweight retail display solution that offers practical product storage combined with strategic messaging – ideal for housing red hot product promotions or fast-moving items. Whether it's highlighting special offers, launching a new product or putting the spotlight on price reductions, strategically placed dump bins are guaranteed to attract the attention of shoppers on their journey in and around your store.
How can product dump bins boost your store sales?
They increase store spending - a dump bin that is packed with promotionally priced products will catch the eye of avid bargain hunters, and a display full of products which complement other nearby, higher-end items will prompt customers to keep on spending

They promote seasonal products - from Valentine's Day themed chocolates to Christmastime decorations, product dump bins offer an affordable and dynamic display solution for retailers looking to adapt their stock to suit upcoming events and the latest trends

They encourage impulse purchases - by placing well-stocked dump bins on the path to the point of sale, retailers can appeal to the impulse buyer and keep customers distracted from any lengthy queues. At the point of sale, shoppers will be ready to commit to making a purchase, but you can raise the average basket value by placing low-cost items in this critical area of the store
Get In Touch Today…
Looking to transform your in-store marketing campaigns for 2020? Look no further! 
Here at Simpson Group, we take the time to understand our customers' needs. Our
CAD and New Product Development
team are able to help you create effective and innovative, on brand POS to generate footfall, boost sales and increase brand awareness. 
Get your
FREE quote
today by telling us your brief and requirements, and a member of our team will be in touch!