To all health care workers, first responders, supermarket employees, pharmacists, petrol station workers, and any other individual that is working to protect our health and help us maintain our daily lives, THANK YOU. 
Social distancing at work
Due to the current situation with COVID-19, the government have advised that all employers allow their employees to work from home wherever possible. However, if this isn't the case, there are other measures that must be considered when working. Social distancing being one of them.  
Below we will run through a list of
dos and don'ts when social distancing at work
.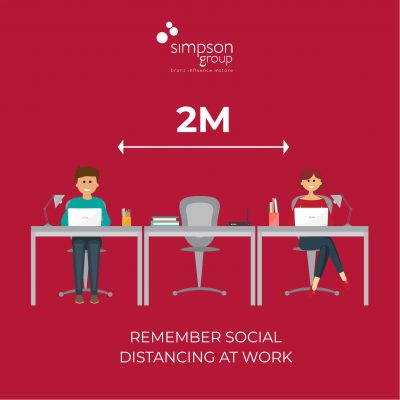 What is social distancing?
Social distancing is a new term to the majority of us, therefore it's important that we understand what it means and how to best practise it. According to the Centers for Disease Control and Prevention (
CDC
), social distancing is defined as:
"Remaining out of congregate settings, avoiding mass gatherings, and maintaining distance. Approximately 6 feet or 2 meters from others when possible"
In other words, you must keep a physical distance between yourself and others. This does not include members of your own household. This is one of the best weapons we have in avoiding the spread of the virus.
Social Distancing at work: Do's
Do maintain at least 2 meters between you and your colleagues

Do wash your hands regularly with soap and water for at least 20 seconds

Do use alcohol-based hand solution when soap and water is not available

Do clean shared surfaces such as tables, keyboards, counters, pin pads and sale locations

Do regular cleaning and disinfecting shared surfaces

Do cover your mouth and nose when coughing or sneezing

Do avoid public transportation if possible

Do have meetings with clients via video communication channels

Do implement a no-visitor policy

Do wear PPE if appropriate to your role

Do implement staggered shifts if possible

Do use a CLOTH facemask where appropriate
Further reading
:
Advice for employers on social distancing during coronavirus (COVID-19)
Social Distancing at work: Don'ts
Don't have in-person meetings with clients if not necessary

Don't allow visitors if not necessary

Don't use public transport if avoidable

Don't attend work if you experience symptoms 

Don't attend work if members of your household have symptoms

Don't come into close contact with one another if not necessary

Don't touch your face

Don't use a facemask intended for a healthcare worker
Further reading
:
Advice for employers on social distancing during coronavirus (COVID-19)
What if my job makes it necessary to have close contact with the public or others?
Interactions with one another, the public, clients or patients may be unavoidable at times. There are still measures you can take to keep safe at work. This may include wearing PPE to do your job safely.
What is the government advice on social distancing at work?
The government's guidance on coronavirus and social distancing at work can be found
here
. It includes advice tailored for different scenarios and industries. 
Including:
Shops running a pick-up or delivery service

Tradespeople and working in people's homes

Tradespeople working in people's homes (NEW)

Construction

Manufacturing and processing businesses

Retail

Logistics businesses

Outdoor businesses

Farming: visiting farms for animal health and welfare

Fishing or other short-term offshore work

Cargo-shipping or other long-term offshore work

Transport businesses

Waste management businesses
Advice for employers on social distancing during coronavirus (COVID-19)
How does social distancing help?
Social distancing helps to stop the spread of coronavirus. Spread happens when an infected person coughs, sneezes or talks and droplets from their mouth or nose are transmitted into the air and then comes into contact with others (
CDC
). It may also be possible that the virus can be spread by touching surfaces an infected person has touched.
Social distancing helps to limit contact with others and surfaces that may be infected or contaminated.
How long will social distancing last?
According to the government's Chief Medical Officer, social distancing will be needed until at least the end of the year. This is to prevent fresh outbreaks.
We recommend regularly checking the
government website
to receive updates on social distancing measures and general updates.
How can we help?
We have been producing safe and social distancing signage for a number of clients over the past few weeks. In addition to this, we have also created bespoke signage that can be used around offices and manufacturing facilities to keep staff safe while at work.
Please visit our
Social Distancing Signage
page for more information.