In the retail world, Christmas is right around the corner! Most stores have already started showcasing their winter wonderland retail displays -
Selfridges
being one of them! It is always important to plan and prepare ahead of schedule when it comes to Christmas retail displays; this time of year can actually put a lot of strain on retailers who are not prepared. 
Here we have some great tips and tricks to help you prepare your retail space in time for the big event!
Utilise Your Store's Space
Christmas is the main season in the year that you can really go all out! But remember, this doesn't mean cluttering your store with tinsel and big decorations everywhere - it's about cleverly utilising the space you have. Christmas windows are a huge attraction in department stores across the UK, so why not use yours in the same way? Create a story through
window stickers and graphics
!
Window displays play an integral part in your point of sale marketing campaign. Not only are your window displays one of the first interactions a customer has with your store, but they can be used to showcase your biggest and best products in a creative way.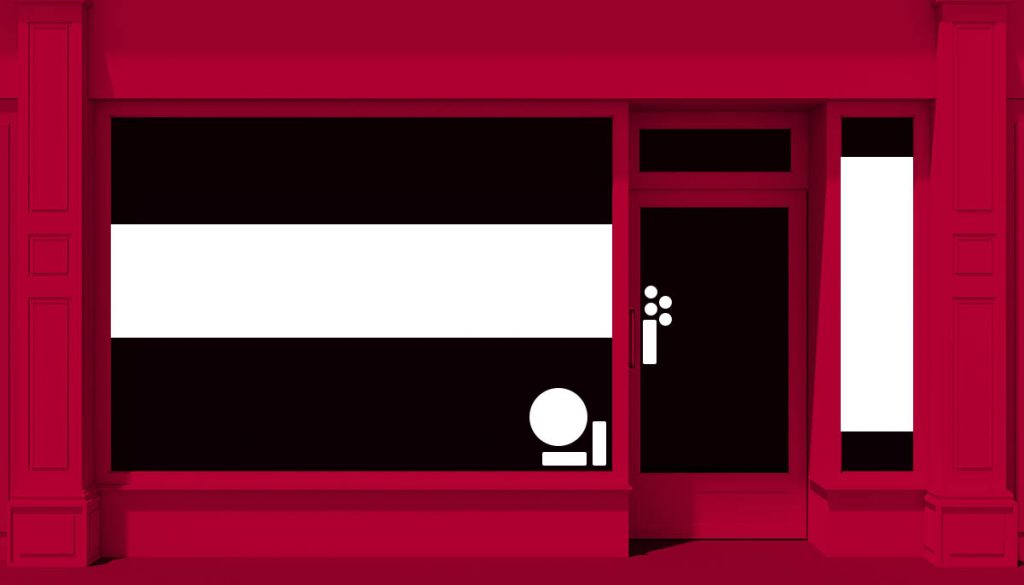 Even The Floor Space!
Not only should you think about utilising window spaces but you should also consider using vinyl floor graphics to fully immerse your store in the festivities. Promotional
vinyl floor stickers
are a great shorter-term promotional POS solution. However, the higher the quality the longer they will last.
Think About Your Customers Journey
During the festive season, shoppers are normally in a bit of a rush and don't like to hang around the shops for too long. Therefore, be sure to place best-selling items near the entrance or in key spots around your store. Dump bins are great to pile stocking fillers in near the pay point - when these are placed logically throughout the customer journey, dump bins can follow a customer's path around the store, leading the customer from the entrance to the point of sale. Easy to assemble and collapse, cardboard dump bins serve as a practical and cost-effective storage and display unit for retailers looking to encourage additional purchases before customers reach the checkout.
Replenish, Replenish And Replenish Again
During this time of the year, your stock levels will drop quicker than normal. If you have been using multi-channel marketing to showcase a particular product then make sure your said product is in a clear view for the customer and also make sure there is plenty of it! Ensure you also have your shelf strips and wobblers out in full force as these will help customers locate the item they are looking for. Shelf wobblers are extremely effective in any retail space and are a crucial component in your POS display. Most retailers use shelf wobblers for in-store promotions as they help draw attention, which in turn drives sales and increases the spend per visit from your existing customers.
Make Sure Your Staff Know Where Everything Is
If you have hired seasonal staff it is important to make sure that they know where everything is. There is nothing worse than losing out on a potential sale because the employer didn't know where to look in the stock room. Staff training is crucial at this time of year. 
Key POS Items To Incorporate Into Your Seasonal Retail Display
Now that you have read our tips and tricks to see you through the Christmas season, here are some POS items that you
MUST
use this year… 
Hanging signs
If you're looking to drive last-minute sales for a specific product or deal then hanging signs are definitely the best way to do this.
Display Cubes
Printed all around with your artwork. You can just stack them or put them one by one on the floor for maximum impact!
Dump Bins
A dump bin is a free-standing container that's used to hold and display products, typically in a retail environment. Generally made from cardboard, a dump bin is a lightweight retail display solution that offers practical product storage combined with strategic messaging. 
Contact Us Today...
Here at Simpson Group, we bring creative retail space ideas to life! If you're in need of a seasonal display or just fancy a POS display upgrade then speak to one of our helpful members of staff today. Or get a
point of sale quote
today by telling us your brief and requirements, and a member of our team will then contact you!