Today is Cyber Monday, the
equivalent to Black Friday
for walk-in stores. While there can be many benefits to browsing the sales from your couch, there is still a handful of things that online retailers can not and will not ever be able to provide for their customers. From a certain level of customer service to the classic 'try before you buy' and prolonged engagement and the experience of walking around your store. 
So we thought what better day to help you stand out from your online competitors than with some of our trusty top tips! Check out our
Simpson Group
advice for helping high street retailers boom this season… 
Top Tips To Stand Out Against Your Online Competitors 
Build A Niche -
One of the best ways that you can eliminate a high chance of competition, whether that be from your online competitors, or your high-street competitors, is by building a niche and discovering what you have to deliver that no other store or retailer can do. 
When your customer knows exactly what they can expect from you, the chances of your building a more substantial and reliable retention is higher. It makes you memorable and familiar with your customer, knowing that they can always rely on you for that one item or style of product. 
Whether it be a specific product, service, experience or storytelling that can be your niche, once you have mastered it, then it will help pave a clear path for your business in order of attracting your target customer and making a profit. 
Focus On Your Customer Service -
The one specific thing that an online retailer cannot compete with is your level of and attention to customer service. With online shopping, there is a barrier between retailer and customer, and no matter how hard you try there is only so far you can go digitally in terms of keeping up a mainstream of communication with your customer. 
So use this to the best of your ability - ensure that you hire employees that possess the following skills and attributes:
They focus 100% on the customer in front of them.

Go the extra mile, spend time with the customer. 

Are polite, friendly and welcoming.

Enhance the checkout process. 

Can be persuasive to reach a sale, without coming across as pushy. 
The service that a customer can receive can really make or break their experience in your store. So make sure that you put time into training your staff, and ensure that a certain level of service is delivered day in, day out. 
Notice The Turn Off Point For Your Customers -
In comparison to online shopping, when a shopper 'bounces' from your store, you have the immediate reactive response power to be able to draw them back in and flip their experience a whole 180. As it can be very easy to ignore or discard an email asking a customer to return to their shopping cart, it is slightly harder to ignore a face to face interaction. 
Pick up on the shopping habits of your customer, by watching their journey around your store and pick up on any areas that they tend to drop off at. Then come up with a solution to fix it! Whether that includes re-designing the visual merchandising of the products on a particular aisel, using stand-out Point Of Sale products to catch the attention of the eye, or moving the area to a different part of your store. This will help the customer stay engaged for longer, and notice over time that you are responsive to your customers shopping habits and are flexible to keeping them in store. 
Invest In High Quality, Reusable POS Products -
Point Of Sale products are a traditional but highly effective method of engaging customer interaction. Here at
Simpson Group
, we are experts at creating engaging and interactive Point Of Sale products, that are designed and manufactured to a high standard, and are reusable - reducing unnecessary waste in both product and finance. 
The following POS products that we recommend that you could try are:
Shop Window Stickers

- Your store window has the ability to draw in customers from afar, before you have any real interaction at all. Invest in on-brand window decals that pop to catch the attention of your customer and bring them in store. Our Window Stickers here at Simpson Group are durable – they will last for the time frame that you need it to be displayed for. Easy to assemble and disassemble – reducing time spent merchandising your products and tailored to your needs. We ensure that we supply you with clear window decals that are streamlined and on-brand for your business in order to gain brand recognition. Most of the window stickers that we produce are designed bespoke by our clients

Hanging Signs

- Hanging Signs have the power to create a journey for your customer to experience your store. They can navigate to a 'sale' area and find exactly what they are looking for. Some important factors to bare in mind can be: 

We understand your hanging signs will most likely be placed under hot store lights, which is why we always ensure our signs will keep their shape.

You can get your artwork printed on both sides of our hanging signs, you can even get different artwork on each side to promote different aspects of your store.

We can also accommodate to themed retail hanging sign displays! Whether you're looking for a

halloween themed hanging sign

or an easter hanging sign – we can help!

Shelf Wobblers

- Shelf Wobblers are an effective method of POS as they catch the eye of your customer and help to make a particular product stand out against the rest. Want to know the benefits of implementing Shelf Wobblers into your in-store POS?
They Stimulate Sales. Especially on crowded aisles, shelf wobblers draw attention to items customers would normally miss or not see!

Interactive and Engaging. As all our shelf wobblers are customisable, there are absolutely no restrictions as to what you can print or display on a shelf wobbler. You can now even add QR codes to your shelf wobbler, encouraging the customer to check out or view more product information there and then.

They Are Highly Practical. Shelf Wobblers are one of the most effective and efficient marketing tools there is within a brick and mortar retail store. Like shelf banners, they help to increase consumer exposure and attract potential buyers.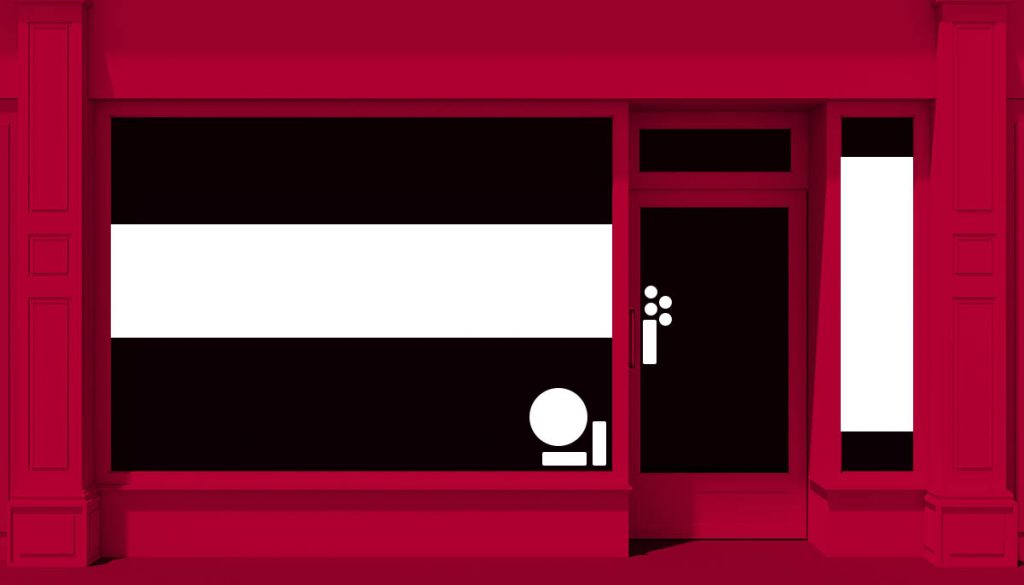 Receive Your Free Quote Today -
Sometimes going back to traditional, old-fashioned customer service and POS sale strategies have the best and highest impact on generating a sale for your customer. If you would like to know more about the services that we can provide your business with here at Simpson Group, then why not
request a free quote today and get in touch
with our team! Submit
the following form
or give us a call on 0191 416 1579.