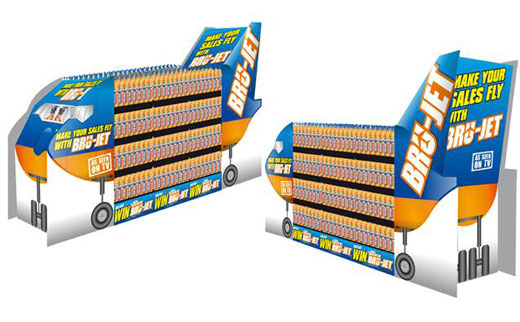 In late May 2011 Simpson Group received an intriguing request from our valued client AG Barr, regarding the summer promotion of Irn Bru. Sales of Irn Bru, 'Scotland's favourite drink', look set to go 'sky high' this summer, thanks to BRU-JET, the brand's most phenomenal on-pack promotion of all time.
The Challenge
In the highly competitive soft drinks industry, AG Barr's POS requirements are fast and furious throughout the year and they like to promote their many brands through a variety of display materials that grab the consumer with colourful and innovative marketing strategies. The brief for this summer 2011 campaign was to create complementary POS for the 'Bru Jet' competition advertised on Irn Bru's multipacks of 9 and 18 x 330ml cans, 2L and 500ml bottles. With 100 flight tickets available for the lucky winners (to an all inclusive week-long break in the sun drenched island of Tenerife), it was decided that a large standee designed as a jet plane would be the main focus, with pallet skirts and hanging die cut boards completing the promotional message.
The Solution
Whilst advising of material cost savings and design improvements that ensured ease of transit and in-store installation, samples were tested. On final approval, production began on an internal box structure with die-cut side cladding shaped as the plane, to dimensions of 1300mmHigh by 700mmWide and 800mmDeep for the nose and 1900mmHigh by 700mmWide by 800mmDeep for the tail. Constructed in EB Flute corrugate and digitally printed, the standee was complemented with a 12m pallet skirt litho printed on 220mic pvc and hanging planes screen printed onto 1750um display board and die-cut to dimensions of 420mm x 190mm.
The Result
Delivered in early July, our pallet skirts 'dressed' the products while the 'Bru Jet' framed them and the hanging boards created clear signage for product location.